past project
The Elegant Drawing Show
Michelle Grabner, James Kennedy, August Ventimiglia
Exhibition Dates:
November 18, 2010 - January 9, 2011
Reception:
Thursday, November 18th, 6-8pm

Location:
Drive-By, 81 Spring Street in Watertown, MA

Hours:
Saturday, November 20, 12 - 4 pm
Thursday, December 2, 7 - 9 pm
Thursday, December 16, 12 - 4 pm
We're also available by appointment.
el • e • gant — satisfyingly and often ingeniously neat, simple, or concise.
Please join us for the opening reception of The Elegant Drawing Show: Window Installation and Drawings by August Ventimiglia, Drawings by Michelle Grabner and James Kennedy
James Kennedy's small, spare, colored pencil drawings use the formal structure of geometry, with its infinite possibilities for variation, to create images that can be at once universal and deeply personal. "We want the Exact and the Vast; we want our Dreams and our Mathematics..." (Emerson, Journals).
Michelle Grabner, Chicago artist and co-director of The Suburban and The Poor Farm, cites "the language of abstraction" as the foundation for her elemental compositions. Within its parameters she identifies, indexes, and transposes patterns to build works that take the form of paintings, drawings, prints, paper weavings, photographs, and stitchery. Grabner will exhibit her silverpoint drawings at Drive-By.
A sculptor with an academic background in Anthropology, August Ventimiglia invests his abstract forms and linear constructions with human social references. Executed in basic materials (sand, charcoal, chalk, etc.), his works materialize as he repeatedly executes isolated actions and gestures. Ventimiglia will be installing a site-specific, clay-on-glass drawing in our storefront window for the exhibition.
Located at 81 Spring Street in Watertown, MA, Drive-By is a small, innovative space committed to exhibiting provocative work in its storefront windows and small exhibition space. Founded by Beth Kantrowitz (Allston Skirt Gallery) and Kathleen O'Hara (OHT Gallery) Drive-By is open for special events and by appointment, though you can always drive by to view our current exhibition.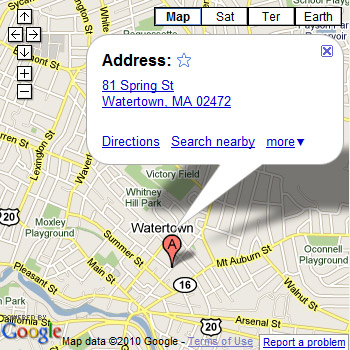 View larger map